National Preparedness Month, sponsored by the Federal Emergency Management Agency (FEMA), is observed every year in the month of September in the U.S. FEMA aims to empower and educate Americans to respond to all types of emergencies and disasters throughout the National Preparedness Month. Emergencies can happen anywhere, anytime, so it's very important for you to prepare yourself for an unexpected emergency. Here's how you can support FEMA in its emergency preparedness efforts:
•    Be aware of emergencies: Keep yourself and family members aware of different emergencies that may affect you. Access the website www.ready.gov to know what's important for you and others when an emergency might occur.
•    Get an emergency supply kit: A basic emergency kit should include first aid supplies and food & water in sufficient quantity for at least 72 hours.
•    Make a family emergency plan: Discuss and identify the responsibilities of each family member about how to respond to emergencies while at home, work or public places. By having an emergency preparedness plan you save time and life during real situations.
•    Get trained: At least one member of your family should be trained in first aid and CPR. This will help you improve your response level during and after an emergency.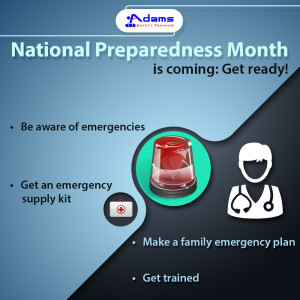 This September, as part of National Preparedness Month, all Americans are encouraged to take actions, develop an emergency plan, and get involved with the community for emergency management.