A forklift is a powerful tool that allows the movement and storage of product and materials efficiently and safely, provided that the employer provides the correct equipment and proper training to its operators.
Forklifts, if employed properly, can be one of the most important equipments in your work area. Over the last few years, forklift technology has advanced a lot and it seems that for companies who own forklifts, maintaining them properly will pay off big time.
However, accidents could nevertheless occur when operating a forklift. Each year forklift accidents result in the loss of lives, significant personal injuries and damages to the products and property. It has been found that most of the forklift accidents occur as a result of driver error.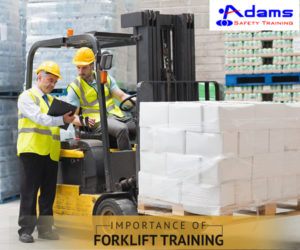 Many companies out there who purchase and then bring these machines into operation forget about the human factor involved. The men operating the forklift need to have proper forklift training for operating them in order to avoid such harmful accidents. Cal-OSHA requires all employees using a Forklift to be certified on the equipment and at the location they are going to use the equipment, before operating the Forklift. Since human handling is the one that eventually will be key to the proper use of the forklift, being properly trained before using a forklift is essential.