Cardiac arrest is one of the most devastating things that could happen to a person. As the disease happens to attack suddenly, you would need to rush the victim to the nearby medical center. And if no medical help is available, the person mightn't suffer the wrath of cardiac arrest. Hence, to save those victims in case of emergencies, you need to have knowledge of CPR techniques. CPR training Oakland is one such program organized in the city by a group of professionals. You could register for the course by paying a small sum of money.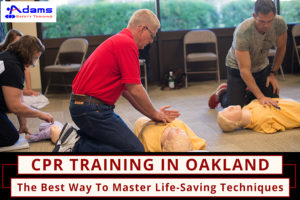 What is the CPR training all about?
CPR, or Cardiopulmonary resuscitation, involves repeated chest compressions followed by rescue breath provided to the victim by someone else. Here, you could be that someone else to help save the victim's life. The technique is mostly developed for emergency situations. However, nowadays even the doctors apply CPR to save patients from cardiac arrests. But as CPR is all about basic tips, everyone could master the techniques. All you need to do is enroll yourself in the CPR training Oakland weekly classes. It offers extensive guidance and hands-on practice sessions in the related field.
Conclusion
The training offers a combined guidance on AED and CPR. And having knowledge in both of these fields could be beneficial in emergency situations.