Forklift training is important for the forklift operator as the operation of the forklift vary from machine to machine. Training the employee with right knowledge helps him to work efficiently in his job. Normally the forklift driver is expected to drive the forklift to warehouses and industries. Here are some importances of training the forklift operator nicely.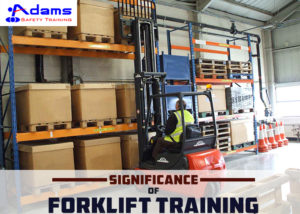 It saves time and increases productivity
When the forklift driver is well trained he can work on his job more effectively and efficiently. Hand-on experience helps him to save life, and increase the work done.
It prevents inventory loss of the company
When the forklift operator is well trained, he could easily avoid any mishap that could happen. Even though nobody gets injured because of forklift mishap, it does a huge inventory loss.
Maintaining forklift equipment consumes less money and time
Along with training the forklift operator on how to operate the forklift, you also train him about how to maintain the forklift. This saves time and keeps the machine in good condition.
It helps your company to stay competitive
Forklift training also helps a company or organization to stay competitive. The training increases the opportunity to expand. This is important in survival of company.
The training helps company meet the Cal-Osha regulations that forklift operator be certified – in not certified the employer can be cited $10,000 per operator not certified and operating a forklift.