Welcome to Adams Safety Training – proudly serving the San Francisco Bay Area since 1991!
Adams Safety Training provides First Aid Training, CPR Classes, and BLS training to the entire San Francisco Bay Area including San Francisco, Oakland, San Jose, Walnut Creek, Concord, Fremont, Hayward, Berkeley, Emeryville, Pleasanton, Livermore, San Ramon, Dublin and surrounding communities.
Adams Safety Training provides the best CPR training classes available at the lowest possible cost with no hidden additional or contracts fee such as material costs, onsite charges, and equipment rental. We provide all equipment and materials included in one low fee. Why Pay More?
Adams Safety Training can provide all of your CPR and First Aid training needs!
We provide onsite trainings for groups (10 or more) at your location anywhere in Northern California.
Or you can attend our open to the public class in San Ramon or in Oakland/Berkeley. Our Training Centers are in nice locations with free parking, San Ramon location is easy to get to off the 680 freeway, and the Oakland location is off 24 freeway about four blocks from Rockridge Bart Station
We provide the following training classes: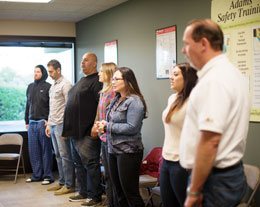 On-Site Work Place Classes We Provide CPR Classes, AED Training, BLS Training, First Aid Training, Blood Borne Pathogen, and Forklift Safety Training at your location anywhere in Northern California for groups of 10 or more students.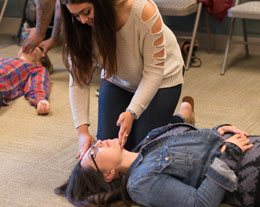 For Healthcare Classes We only provide the Best Training by offering the American Heart Association CPR/BLS with AED for Healthcare Providers – with certification cards issued at the class. Full classes, Renewal classes and Skills Check.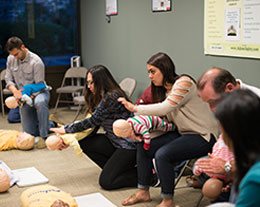 Licensed Childcare Classes (Day Care or Childcare Center) We are certified and approved by the State of California Emergency Medical Services Authority – EMSA. Adams Safety Training is Proud to be one of the Few Elite Training Companies in the State of California, to offer the full 16 hours of required training for Licensed Childcare Providers.
Adams Safety Training is certified by the State of California EMSA to provide:
Licensed Childcare Pediatric (Infant, Child and Adult) CPR & First Aid (8 hour training) our certification is # 11-0506-DC. Weekly classes in San Ramon and Oakland/Berkeley.
Licensed Childcare Prevention of Illness & Injury- Health & Safety – Including the new 2016 Childcare Nutrition Program (8 hour training) our certification is #11-0506-DC. Classes offered every other week in San Ramon.
Be aware There is a lot of fraud in EMSA Childcare Training , Instructors that do not provide EMSA compliance training. Don't take a chance Children's Safety is to important!
Every two (2) years, EMSA Licensed child care providers must renew their training by completing 4 hours of pediatric first aid and 4 hours of pediatric CPR including adult CPR and infant, child, and adult AED training with other required topics that must be covered in the training.
NO ONE CAN LEGALLY OFFER SHORTER CLASSES AND BE IN COMPLIANCE – NO ONE- not American Heart Association or the American Red Cross
If an instructor provides a course in fewer hours than required, the training is not in compliance with the law. Report this situation to the EMS Authority at (916) 322-4336, extension 434. Remember it is all about the Safety of Children!
Here is a link to the State of California EMSA Child Care web site to confirm Adams Safety Training is an approved training provider in good stating.
http://www.emsa.ca.gov/child_care
From: Chaidez, Lucy@EMSA [mailto:Lucy.Chaidez@EMSA.CA.GOV] (916) 431-3678
Subject: RE: American Heart Association and American Red Cross Exception
Both the American Heart Association and the American Red Cross (ARC) must provide the child care training according to the EMSA standards. They must abide by the EMSA standards for training. They must still provide the 8-hour child care provider pediatric first aid and CPR course. If they do not, then they can be reported to the AHA government liaison. If you have any details about the AHA program that is shorting hours, please send EMSA that information, and we can forward that to the AHA liaison. The same goes for the ARC. There is a liaison for that program as well. You can send the information to Mark Olivas, his e-mail address is:Mark.olivas@emsa.ca.gov
EMSA CHILD CARE PROVIDER TRAINING
FREQUENTLY ASKED QUESTIONS
May I take shortened classes in child care First Aid and CPR, since I am only renewing my training?
No. The training for child care First Aid and CPR is required to be a total of 8 hours (4 hours for first aid, and four hours for CPR) EACH time a child care provider takes the course. The child care First Aid and CPR training must be repeated every two years, at the minimum.
The Preventive Health and Safety Practices course is a one-time only requirement and must be at least 7 hours long. [Beginning January 1, 2016, the Preventive Health and Safety Practices course will be 8 hours long.]
May I take online courses for the child care provider training?
No. On-line courses are not allowed for any of the child care training, per the statute that governs this particular training requirement. This includes blended training provided by National Training Company such as American Heart Association, Medic First Aid or others – all training the full 8 hours must be in a class room.
All of our safety training programs meet California EMSA, OSHA, State and Federal safety requirements. Our goal is to provide the best quality, fun, low stress, and low cost but thorough CPR training at all times.