An Automatic External Defibrillator (AED) is a battery-operated, portable device that applies electrical therapy, allowing the heart to reestablish an effective rhythm in a person suffering from a Sudden Cardiac Arrest (SCA). The use of AED dramatically increases the chance of survival of the victim to as much as 70% and higher.
When to use an AED?
When a person collapses due to cardiac arrest, the heart goes under the state of ventricular fibrillation. This rhythm is fatal for heart and the victim. An AED is used to stop the fatal rhythm by applying an electric shock to restore the normal rhythm. AED should be used in situations wherein the victim is unconsciousness and doesn't respond to your voice.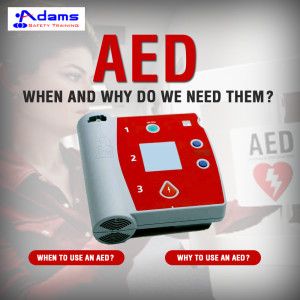 Why to use an AED?
95% of SCA victims die from it, most within minutes. CPR (cardiopulmonary resuscitation) performed on the SCA patient improves his/her chances of survival. If the patient is not regaining normal heart beat and breathing, treat him/her with an AED. This can be lifesaving for the patient. AEDs can be used by untrained personnel till medical professionals arrive. AEDs are now commonly available in many public places, such as shopping complex, office buildings, schools, airports, airplanes, sports arenas, and fitness centers.
By taking a CPR course and learning how to use an AED can make the difference for life and death for someone. Using an AED can help save someone's life.