Do you find yourself unequipped at the time of pet emergencies? As a pet sitter, are you looking for proper training that can add value to your resume and help you get new clients?
What do Pet Training Classes offer?
• Helps you understand basic pet owner responsibilities
• You can administer medicine
• Managing breathing and cardiac emergencies
• Assessing vitals in case of pet emergencies
• Managing urgent care situation
• Treating wounds
• Treating electrical shock
• Preparing for disasters
Choose the Right Training
It will be wise to choose a training that adds value to your resume. Choose a training that equips you to tackle unexpected issues and accidents. Also trainings should prepare you avoid accidents from taking place. As a pet sitter or owner you need to understand the pet's personality. Take the course that will help you address their safety concerns.
Where from should you do Pet CPR and First Aid Course?
Pet CPR and First Aid Course can be done online or in a one-on-one personal training session or group class. Many organizations like the American Red Cross offer these courses globally. Learn CPR or First aid for all exotic animals and not just cats and dogs.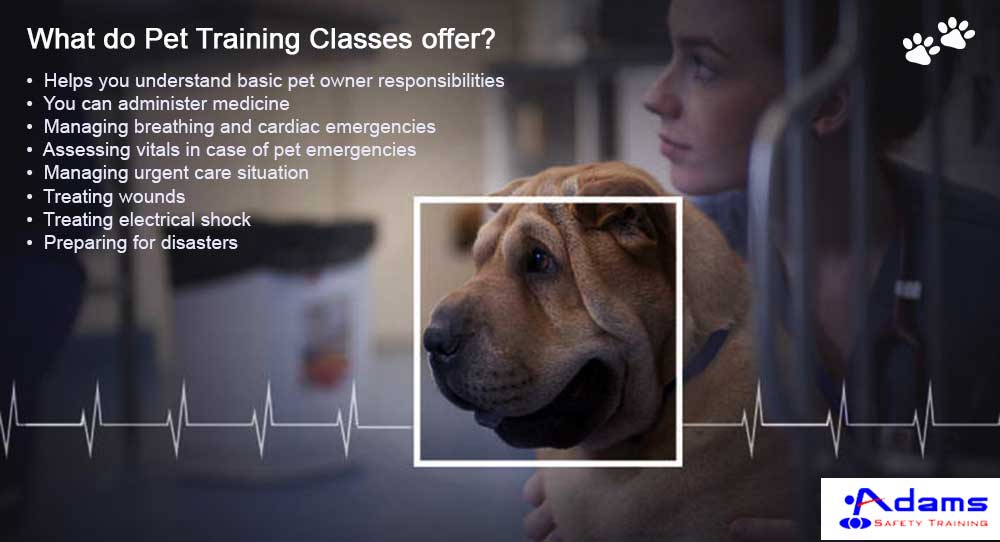 Keep a Pet Emergency Preparedness Kit ready always
• Keep medications and medical records in a waterproof container and a First Aid kit ready.
• Keep strong leashes, harnesses, and/or carriers to transport pets safely ensuring that your animals can't escape.
• Keep current photos of your pets in case they get lost.
• Food, drinkable water, bowls, cat litter/pan, and manual can opener need to be placed in the kit
• Information on feeding schedules, medical conditions, behavior problems, and the name and number of your veterinarian in case you have to foster or board your pets.
• Pet bed or toys if easily transportable.