Aerial Lifts
Sometimes called Man Lifts or Scissor Lifts.
Classroom Instruction
Adams Safety Training offers one of the most comprehensive programs available for training Aerial Lift operators. The training is tailored to the specific needs of your organization and involves about 3 to 4 hours training. Training includes  a 30 minute DVD presentation to help meet the Cal-OSHA requirements, and a hands-on evaluation of each operator.
This training is only offered on-site at your location with your equipment.
Cost $60 per person  and for an on-site at your location minimum of 10 students (or agree to pay for 10) is required. There are no other charges.
Training Requirements
Workers should be retrained if any of the following
conditions occur:
An accident occurs during aerial lift use,
Workplace hazards involving an aerial lift are
discovered, or
A different type of aerial lift is used.

New Employees
Or every 3 years
Employers are also required to retrain workers who they observe operating an aerial lift improperly. The class is designed to meet the Cal-OSHA and Federal OSHA requirements.
Hazards Associated with Aerial Lifts
The following hazards, among others, can lead to
personal injury or death:
Fall from elevated level,
Objects falling from lifts,
Tip-overs,
Ejections from the lift platform,
Structural failures (collapses),
Electric shock (electrocutions),
Entanglement hazards,
Contact with objects, and
Contact with ceilings and other overhead Objects. Drop-offs, holes, or unstable surfaces such as loose dirt;
Inadequate ceiling heights;
Slopes, ditches, or bumps;
Debris and floor obstructions;
Overhead electric power lines and communication cables;
Other overhead obstructions;
Other hazardous locations and atmospheres;
High wind and other severe weather conditions, such as ice; and
The presence of others in close proximity to the work.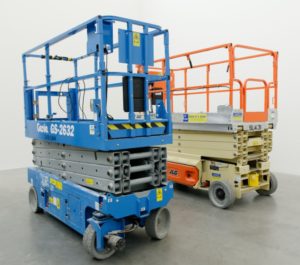 An aerial lift is any vehicle-mounted device usedto elevate personnel, including:
Extendable boom platforms,
Aerial ladders,
Articulating (jointed) boom platforms,
Vertical towers, and
Any combination of the above.
Aerial lifts have replaced ladders and scaffolding on many job sites due to their mobility and flexibility. They may be made of metal, fiberglass reinforced plastic, or other materials. They may be powered or manually operated, and are considered to be aerial lifts whether or not they can rotate around a primarily vertical axis.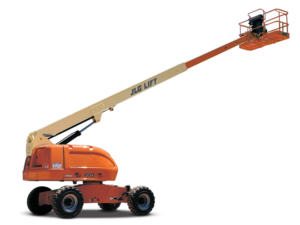 A written test is part of the training and is reviewed with the operators to ensure understanding and retention of materials covered.
Hands-On Evaluation
To comply with the law and ensure that the operator has the ability to operate safely, each operator is required to pass a hands-on evaluation in the workplace on each truck type they will be assigned to operate. The method requires the operator to demonstrate proficiency in forklift operation in a manner that mirrors actual use in the workplace. This requires approximately 10 to 40 minutes per operator, per truck, in a "one-on-one" training/evaluation session.
Course Materials
All necessary materials are provided including:
Student Workbooks
Certification cards
Operator evaluation forms
Pre-shift inspection forms
The provided documentation is to show proof of training and should be kept by the students and company for compliance auditing purposes.